Norsk | English | Polski | Lietuvis
I forbindelse med at vi nå endelig kan bestille vanlige, grønne byggekort til våre ansatte, måtte HMS-kortene for en del av guttene settes til «Ikke gyldig».
Alle som har de gule renholdskortene skal nå ha mottatt epost der det fremkommer at nytt, grønt HMS-kort er satt i bestilling. Den e-posten kan benyttes som bevis frem til plastkortet ankommer om en uke eller to.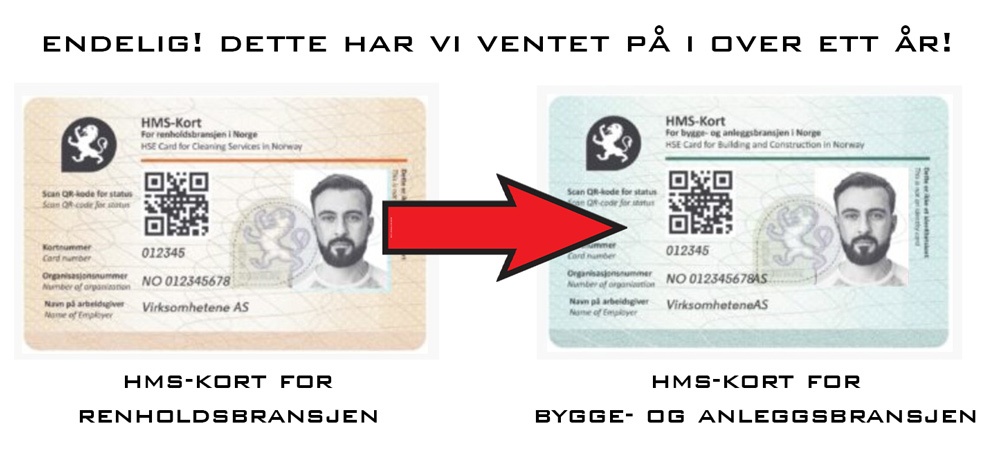 English: Today we could finally start to order «regular» HMS cards for our employees. Those who has a yellow HMS card must know that their card is now «Not valid». Everyone who has a yellow card has before Monday received an email stating that a new, green HMS card has been ordered. That email can be used as proof until the new, green plastic card arrives in a week or two.
Polski (Google translate): Dziś mogliśmy wreszcie zacząć zamawiać "zwykłe" karty HMS dla naszych pracowników. Ci, którzy mają żółtą kartę HMS, muszą wiedzieć, że ich karta jest teraz "nieważna". Każdy, kto ma żółtą kartę, otrzymał przed poniedziałkiem wiadomość e-mail z informacją, że została zamówiona nowa, zielona karta HMS. Ten e-mail może służyć jako dowód, dopóki nowa, zielona plastikowa karta nie nadejdzie za tydzień lub dwa.
Lietuvis (Google translate): Šiandien pagaliau galėtume pradėti užsakyti "įprastas" HMS korteles savo darbuotojams. Turintys geltoną HMS kortelę turi žinoti, kad jų kortelė dabar "negalioja". Visi, kurie turi geltoną kortelę, iki pirmadienio gavo el. Laišką, kuriame nurodoma, kad užsakyta nauja, žalia HMS kortelė. Tas el. Laiškas gali būti naudojamas kaip įrodymas, kol nauja, žalia plastikinė kortelė atkeliaus per savaitę ar dvi.